The Last Supper, the sermon or the feeding of the disciples with bread and fish - pictorially staged on the streets of a big city, in a Chinese fish store or in shabby rooms. In this photo series, created in 2003, the U.S. photographer David LaChapelle interprets the Bible in his own way.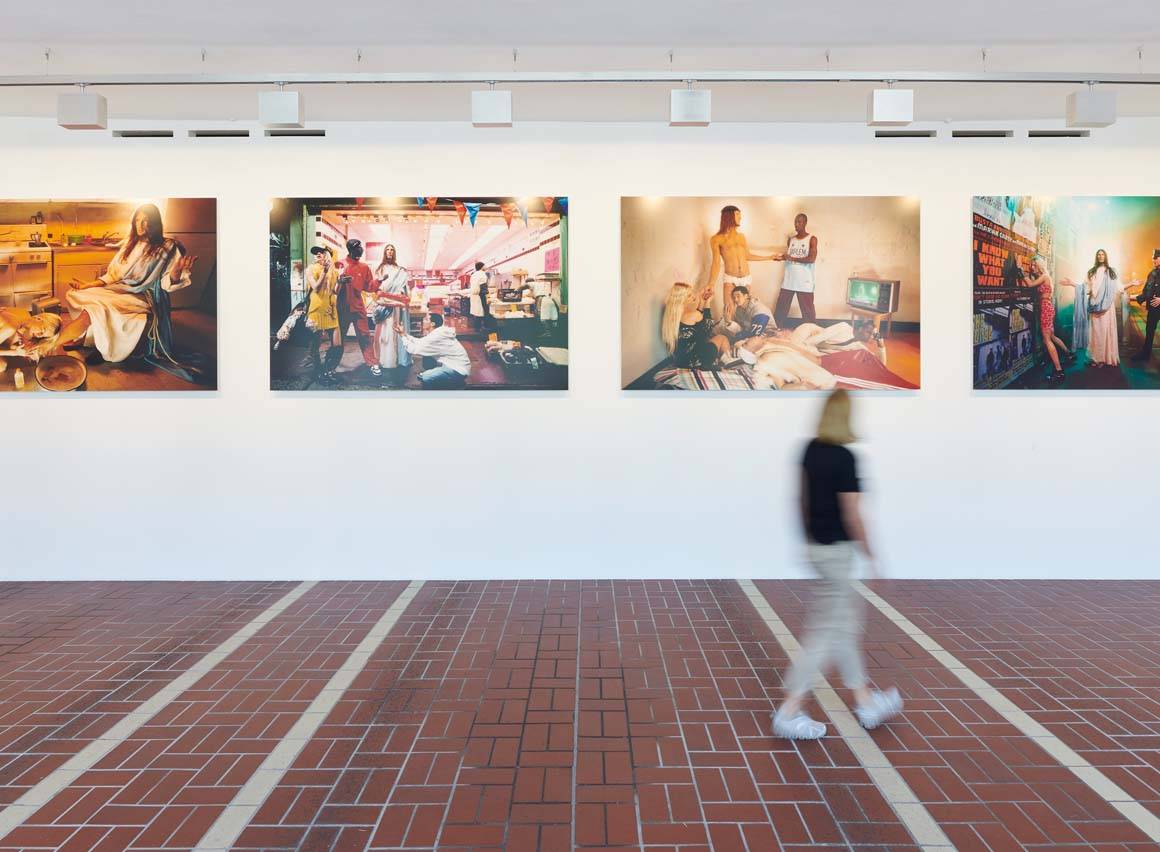 In this 2003 cycle for the British magazine i-D, Jesus is My Homeboy, LaChapelle illuminates biblical scenes in sugary luminous colors as oversized tableaux vivants.
Jesus as a homeboy, a buddy of his disciples who gather around him with a blond female figure, Mary Magdalene, in a ramshackle living room, on nighttime streets, or in a shabby kitchen.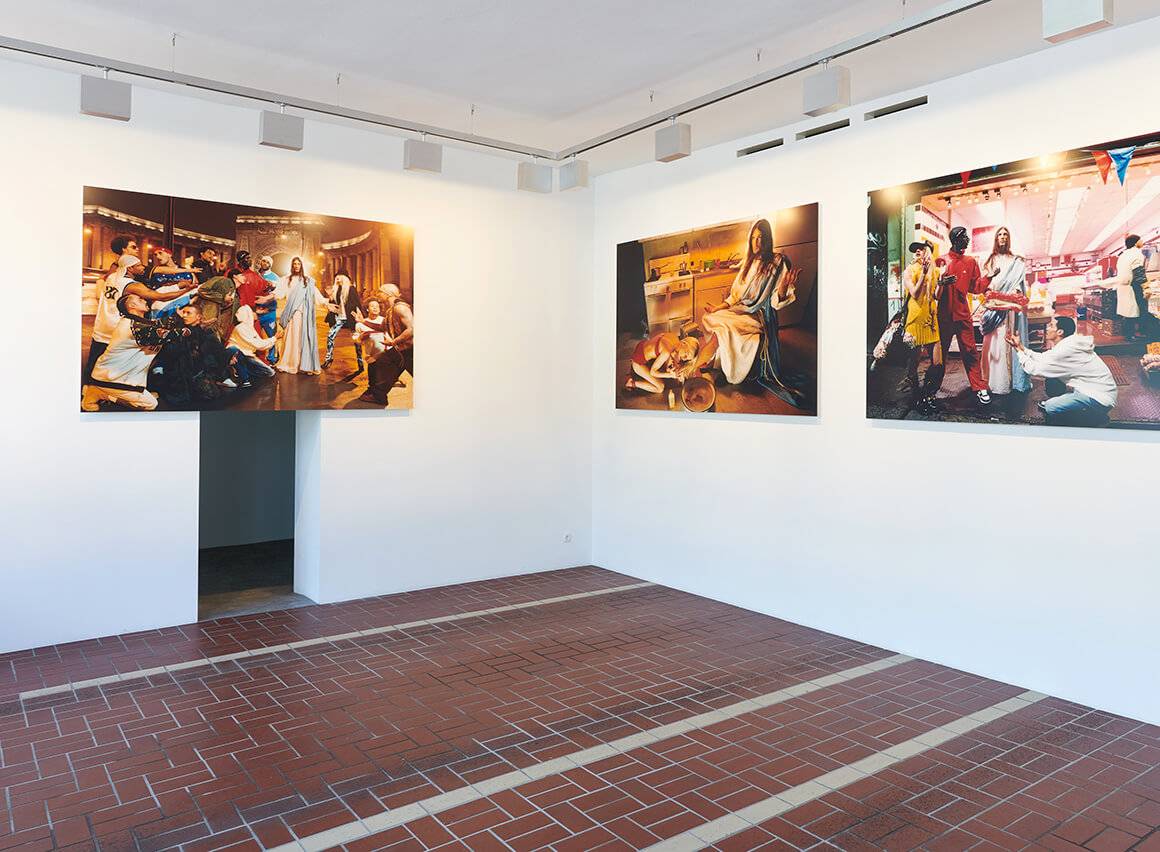 2005 film documentary by David LaChapelle
Filmed in South Central Los Angeles. In the center: Clown Dance and Krump. Clowning originated in the 90s of the 20th century from clown acts for (children's) birthdays. It quickly evolved into a dance style built on breakdance moves. Tommy the Clown is considered the inventor of clowning, the source of inspiration for krumping. This more intense and also much more aggressive way of dancing has been incorporated into numerous international music acts and videos, for example by Missy Elliott, The Black Eyed Peas or Madonna. The American magazine Variety described the film as an all-round success that pays tribute to social complexity and knows how to combine that with a visual bang. At the film presentation of RIZE, the music magazine Rolling Stone spoke of a phenomenal film, a visual miracle. We are showing RIZE in our exhibition.
On the occasion of the vernissage, Prof. Dr. Friedhelm Mennekes SJ gave an introduction to the work of David LaChapelle.
For many years, the art expert founded and directed the St. Peter Art Station in Cologne, a center for contemporary art and music. He has been a visiting professor of contemporary art at numerous universities and since 2021 has been "Consigliere per l'Arte Contemporanea" at the Pontifical Council for Culture. Here are some quotes from his speech: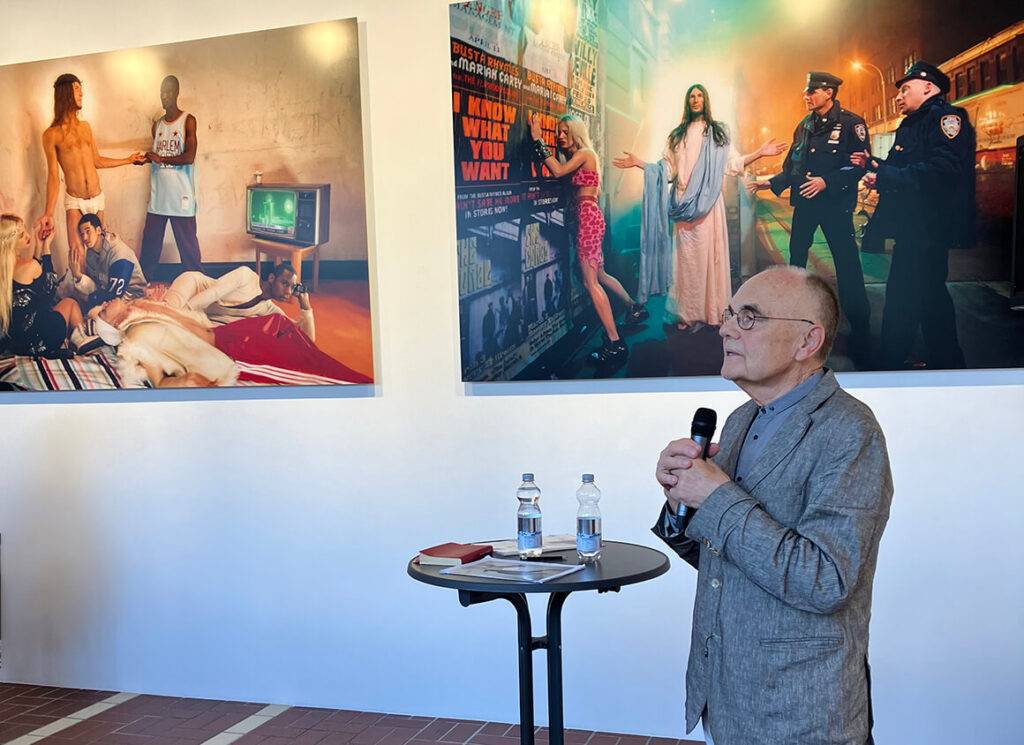 David LaChapelle is an artist I didn't know like this before Rafael Jablonka asked me to open this exhibition. After dealing with him and this work I have to say: For me he is one of the great, one of the greatest artists of our time.
He was socialized as a Catholic like so many artists, for example Andy Warhol. Later, many, including LaChapelle, turned away from religion. What has remained, however, is the longing to produce images, which is inherent in Catholicism. This is exactly what David LaChapelle does, it seems as if he wanted to create the Bible itself with this cycle.
You can bring a bunch of morals with the Christian thought or just a voice at the right moment that says "you can't do that". This stops the policemen in the picture 'Intervention' from doing what they are doing.
LaChapelle does not make Catholic propaganda, but he shows people who set themselves free. They do it because they can. That's why, for me, these images are among the most grandiose of this genre.
Photo art with its own distinctive style
Born in 1963, LaChapelle, who recently opened one in Miami in addition to his New York studio, studied at the North Carolina School of the Arts and soon met an important patron in New York. Andy Warhol paved the way for his legendary Magazine Interview, followed by other tone-setting magazines such as Paris Vogue, Vanity Fair and Rolling Stone, which enabled LaChapelle to develop his own distinctive style. LaChapelle's work is constantly on view in the world's great museums and galleries: National Portrait Gallery or V&A London, Musée d'Orsay, MUDEC Milan, Tel Aviv Museum of Art, Groningen Museum, Palazzo delle Esposizioni, Staley Wise Gallery, Pearl Lam Galleries Singapore and many others.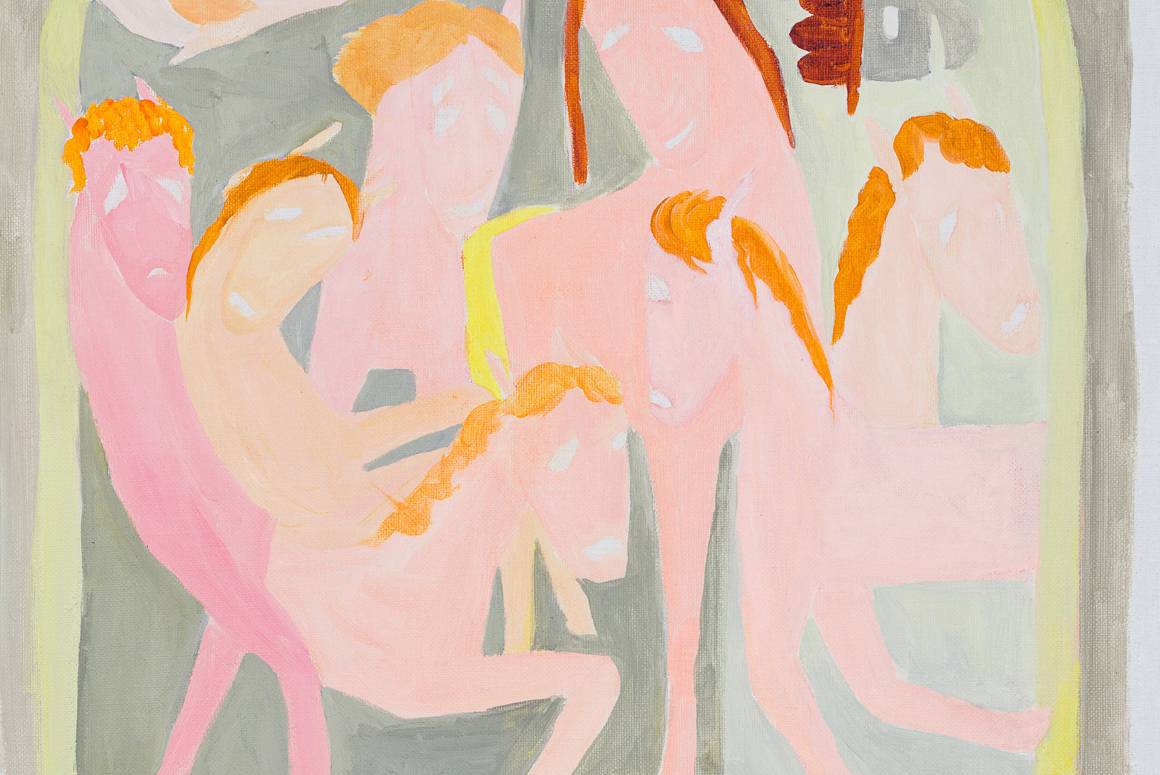 Love and Embarrassment
December 2022 - March 2023